A mountain lion found dead along the side of Highway 1 in Cambria is believed to have been hit by a car overnight, according to Fish and Wildlife.
Patrol Lieutenant Todd Tognazzini says a passerby reported seeing the mountain lion along the side of the southbound lanes of Highway 1 in Cambria at about 7:50 a.m. Thursday.
Tognazzini says the "sub-adult" lion was determined to be a female and was about 50 pounds in size.
Officers retrieved it and will conduct a necropsy on the animal.
It's not uncommon for mountain lions to be hit by cars. Tognazzini says within the last few months, lions have been hit near San Luis Obispo, along Santa Rosa Creek Road and on Tuesday, one was hit in downtown Monterey.
Tognazzini says mountain lions are highly nocturnal, so while the driver who hit the lion did not call it in, officials believe it was hit sometime overnight.
Fish and Wildlife is currently conducting a mountain lion study in San Luis Obispo County and says any information they can collect is valuable.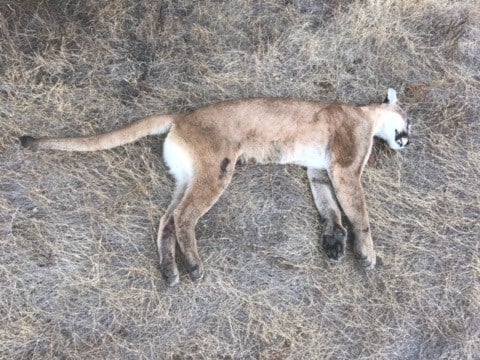 The female mountain lion found dead along Highway 1 in Cambria Thursday morning. (Photo: Fish and Wildlife)